So WizKids revealed everything about the Wyvern Expansion set except for the Ground Manuevers.
Let's take a more in-depth look at what's coming in this Expansion.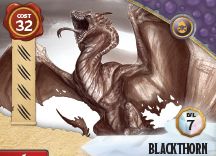 First, the unique named Creature is "Blackthorn." That's already pretty awesome! Let's compare him to the generic version of a Wyvern.
Blackthorn is 3 levels higher, has 1 Agility compared to the generic's 0, 2 additional Monster Upgrade slots, and finally a pretty nice unique ability:
Instead of attacking normally, Blackthorn may make 1 Bite attack and 1 Tail attack; neither attack can be initiated from the "Attack:" text on an Upgrade.
So if you're good at maneuvering, you can position yourself to be between two enemy units (or fly so you overlap a ground unit, then glide past them to get a front arc attack on another unit and a rear attack on the unit you just passed!
All those differences for only 6 points!
What do we get to give the Wyverns? We'll take a quick look at a few highlights!
Disable this Upgrade to make a Primary Weapon Tail Attack against a Creature at Range 1 – 2 in your rear arc. Roll +2 attack dice during this attack. This attack is considered a

attack.
A 6 die attack, even from the generic version of the Wyvern, with the possibility of a Target for re-rolls or a Charge to position yourself behind a ground Creature (no +1 for rear arc attacks after a Charge, but you still get 6 dice). Pretty good for 5 points!
During the Combat Phase, you may target 1 non-Poison Creature that was just damaged by your

attack. That Creature receives the Continuous Effect below. Place 2

on this Upgrade.
Continuous Effect: At the start of the End Phase, the affected Creature must flip one of its face down Damage Cards face up; the affected Creature chooses the card at random and immediately suffers its effects. If the Creature does not have any face down Damage Cards, it receives 1 face down Damage Card instead.
The obvious follow-up to the Stinger attack, this Upgrade will convert Damage a creature has already sustained into a Critical Effect! That's incredibly strong. If the Creature has removed all Damage Cards, through healing for example, then Deadly Venom does another damage! Additionally, this ignores all armor!
During a Primary Weapon Melee attack against a Creature at Range 1, you may convert 1 of your blank results into 1

result.
Another good card. For 3 points, you can convert a blank result against a Creature at Range 1 to a Hit! Also a nice card for any other Monster Creature type, such as Lord Max, Jarl Horn, or the Aarakocra!
Or give it to the generic Wraith, who can only attack at Range 1, and take a Concentrate maneuver. Now, as long as you can get in close, you are guaranteed at least 1 hit that penetrates armor because

count, Critical Hits count, Concentrates can convert to a

, and 1 blank converts to a

. Suddenly that little Wraith is a little scary.
There's more of course, but I think part of the fun is discovering the combinations yourself, so pop over to the Legion Builder, select Wyvern from the Set dropdown menu, and check out what's available!